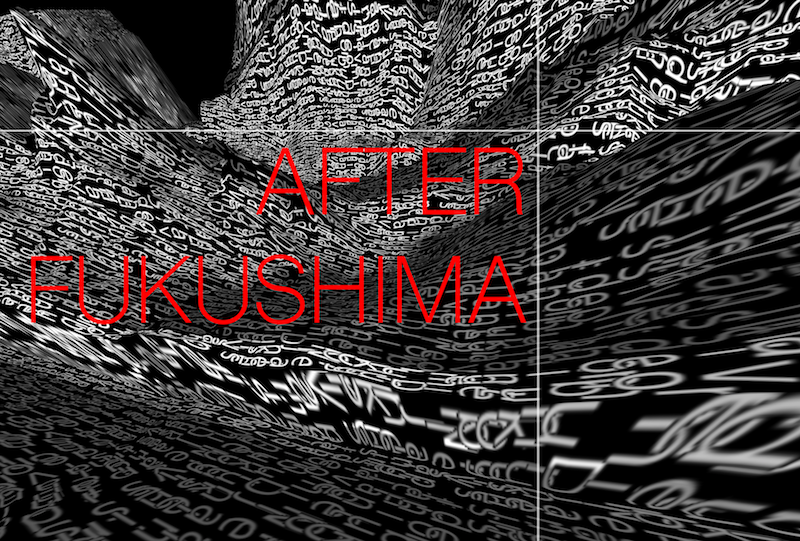 EXPOSITION :
— Montréal, à l'invitation de l'agence TOPO – aout-septembre 2018. Création pour la vitrine dans l'espace public du batiment UBISOFT.
— Montréal, festival art souterrain, février-acril 2020.
— Paris, Galerie Satellite, octbobre 2020.
french :
Un paysage sans reste d'humanité se crée de manière continue. Il est un reflet poétique d'une terre dont nulle conscience n'est plus témoin. Il y a eu destruction. Cette terre, c'est Fukushima. Elle est désolée. Il ne reste qu'un paysage sombre, sans hommes, sans faune ou flore. Seuls quelques vestiges de constructions peuvent apparaître. Pour cette nouvelle création, Philippe Boisnard s'associe à Jacques Urbanska et à sa veille twitter @fukushima_actu pour générer le paysage médiatique de la catastrophe qui s'est produite en 2011.
> Ce paysage se modifie automatiquement par l'analyse des flux d'informations concernant Fukushima mis en ligne sur le Web.
Sa texture de couleur est faite des images qui ont été diffusées ou sont encore diffusées par le twitter @fukushima_ actu.
Ce paysage est post-historique. Il n'écrit plus l'histoire. Il est le reflet d'un monde où l'homme a disparu, mais dont il ne reste plus que les traces sous la forme des archives. Une caméra automatique explore ce paysage : nous faisons face à sa solitude. Le terme de solitude est ancien, il renvoie au XVIIème siècle à une friche, à un noman's land.
english :
A landscape without humanity is created continuously. It is a poetic reflection of a land that no consciousness is no longer witness. There was destruction. This land is Fukushima. It is devastated. There is only a dark landscape without men, without fauna or flora. Only a few remains of buildings may appear.
For this new creation, Boisnard Philippe joins Jacques Urbanska and its twitter @fukushima_actu to generate the media landscape of the disaster that occurred in 2011.
The landscape changes automatically by analyzing the flow of information about Fukushima posted on the Web.
Color texture is made pictures that were released or are still distributed by the twitter @fukushima_ news.
This is post-historic landscape. He no longer writes history. It is a reflection of a world where man has gone, but there remains the traces in the form of archives. An automatic camera explores the landscape: we face loneliness. loneliness of the term is old, it returns to the seventeenth century in a wasteland, a no man's land.
creation : Philippe Boisnard
database Jacques Urbanska
sound Philippe Franck