[+] 12 mars Fabrika Voxa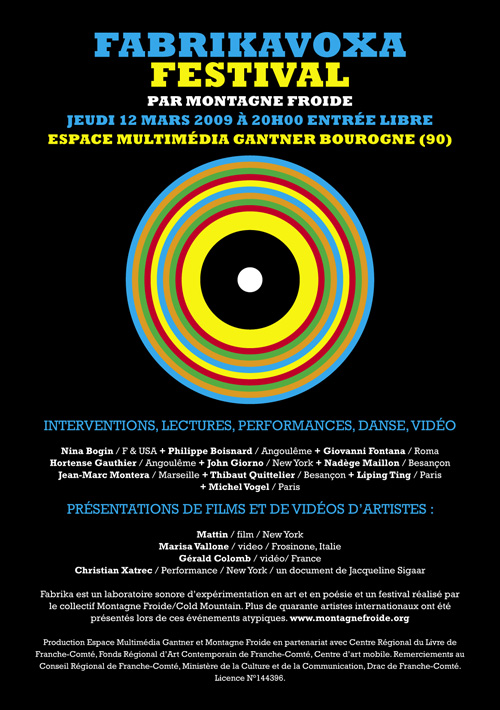 Presentation of the last version of [kleine Maschine]
FabrikaVoxa Festival / organized by Montagne Froide
Espace Multimédia Gantner – Bourogne (90)
>> jeudi 12 mars 2009 – 20H00 – free.
Interventions, lectures, performances, danse, video.
Nina Bogin / F & USA
HP Process (Philippe Boisnard & Hortense Gauthier) / Angoulême
Giovanni Fontana / Roma
John Giorno / New York
Nadège Maillon / Besançon
Jean-Marc Montera / Marseille
Thibault Quittelier / Besançon
Liping Ting / Paris
Michel Vogel / Paris
Présentations of films et and artist's videos
Mattin / film / New York
Marisa Vallone / video / Italie
Gérald Colomb / vidéo/ France
Christian Xatrec / Performance / New York / a document of Jacqueline Sigaar
Fabrika est un laboratoire sonore d'expérimentation en art et en poésie et un festival réalisé par le collectif Montagne Froide/Cold Mountain. Plus de quarante artistes internationaux ont été présentés lors de ces événements atypiques.