Un homme et une femme s'écrivent à travers des écrans interposés et improvisent derrière leurs claviers un dialogue dans lequel ils déconstruisent et brouillent les codes du chat et des relations sur les réseaux sur un mode poétique et performatif. Cet échange médiatisé par les technologies numériques, entre intimité et virtualité, donne naissance à une relation où les tensions et les désirs se déploient dans un univers visuel et sonore interactif pour aller jusqu'à la saturation/dislocation du langage, du son et du corps.
CONTACT / une performance de poésie action numérique / un homme / une femme / ils s'écrivent / chacun derrière/devant un écran / poésie improvisée / ils tentent de se parler / son et texte tapé projeté samplé destructuré en temps réel / poésie visuelle et sonore / jeu sur les surfaces du langage / du bout de doigts actioner sculpter les mots par une interaction son-corps-texte / composition-recomposition du possible d'un dialogue / matérialité numérique du texte diffracté dans les écrans / matérialité des corps diffractés dans les mots / le corps comme surface de projection / la surface du texte comme espace de désir / du corps intime à la chair numérique / une relation se tisse dans l'entrelacement numérique des phrases projetées chuchotées / le corps du texte en explosion / ils tentent de s'approcher / de se toucher / le texte en extension du corps / ne pouvoir se toucher que dans la tension de la distance médiatisée / se tenir dans cet écart / et peut-être traverser l'écran / dans un débordement du langage et du corps / au-delà des écrans / au-delà de soi / jusqu'à l'autre …
……………………………………………………………………………………………………………..
CONTACT / performance of digital action poetry / man / woman / they write to each other / each one behind/in front of a screen / improvised poetry / they try to speak / sound and text typed showed deconstructed sampled in real time / visual and sound poetry / to play with the surfaces of language / with fingertips stimulating and carving the words by a sound-body-text interaction / composition-recomposition of a possible dialogue / digital materiality of text diffracted in the screens / body materiality diffracted in words / body as a screening surface / text's surface as a space of desire / from intimata body close to the digital flesh / a relationship developing in the digital interlacing of the whispered and showed sentences / body text in explosion / they try to be close to each other / they try to be next to each other / text as extension of the body / being able to touch the other only in the tension of the network distance / standing in this gap / and perhaps to go through the screen / in a flood of language and body / beyond the screens / over self / up to the other …
……………………………………………………………………………………………………………..
CONTACT est un projet modulaire, qui, à partir de la performance, se décline sous forme d'installation, d'installation participative et interactive, et sous forme de performance en réseau.
>>>> Dans le cadre du colloque E-Formes 4 à l'université de St Etienne le 2 décembre 2011, a eu lieu la nouvelle version de la performance CONTACT à la Maison de l'université.
La performance s'est déroulé à la fois in situ et en temps réel sur le web : www.contact-hp.com
De nouveaux processus sont apparus :
__ le texte écrit par Philippe Boisnard et Hortense Gauthier sur scène de façon improvisée est visible et lisible sur le web en direct, mais de façon modifiée, et l'internaute peut suivre le dialogue entre "Elle" et "Lui". Ce déplacement est celui d'une déformation, avec des bugs et des agencements qui lui sont propres. A partir de la poésie visuelle tissée sur scène, une autre se crée selon les normes du web, selon des possibilités d'une générativité du code, qui construira le site au fur et à mesure de la performance.
__ le flux d'écriture est capté en temps réel et le texte sauvegardé, mais selon une logique de déplacement, la sauvegarde modifie l'agencement du texte qui ne se donne pas tel qu'il a eu lieu dans la réalité de sa construction. L'ensemble du dialogue est conservé sous formes de fichier texte (imprimables) et au fur et à mesure des performances, les dialogues accumulés forment des archives.
Entre Net-Art, poésie sonore, générative et interactive, HP Process tente, avec cette nouvelle version de CONTACT, d'agencer tous les médiums numériques dans une logique intermédia où le texte éclaté entre la scène, la voix, le corps et le web crée des conjonctions et des disjonctions. L'écriture en tant que flux qui circule des doigts à l'écran, de l'écran au son et au réseau pour revenir envelopper la peau et créer d'autres espaces de projection de soi et de l'autre.
Le dispositif d'écriture performatif en temps réel, retransmis sur le web en temps réel, fonctionne comme une mise en abîme de la communication sur les réseaux où les êtres tentent de se trouver, de se toucher, de transcender la distance tout en la maintenant comme condition même du désir, où les corps s'effacent pour mieux resurgir de façon brouillée, modifiée, diffractée … Cette extension sur le web de CONTACT pose la question de la transposition du texte d'un espace à un autre, d'un médium à un autre, et de sa mutabilité ; elle interroge le web comme espace même de l'archive de la parole, dans lequel les logiques de l'éphémère et de la mutation sont à l'oeuvre.
…………………………………………………………………………………………………………………………..
During the colloque E-Formes 4 at the university of St Etienne on December 2sd 2011 at Maison de l'université :
a new version of CONTACT has been played
in situ and connected in real-time on the Web : www.contact-hp.com
__ The text written by Philippe Gauthier Boisnard and Hortense improvised on stage is visible and legible live on the web, but it is modified, and the user can follow the dialogue between "She" and "He". This shift is that of a strain with bugs and arrangements of its own. From visual poetry spined on stage, another is created according to web's standards, according to the possibilities of generative code, which build the website as performance goes along.
__ The writing's flow is captured in real time and the text saved, but according to a moving logic, backup changes the arrangement of the text which isn't given as it took place in the reality of its construction. The composed dialogue is stored as a whole as a text file (printable) and as performance goes along, the accumulated dialogues make up archives
From Net-Art, generative and interactive poetry, and sound poetry, HP Process attempt with this new version of CONTACT, to arrange all digital mediums on a intermedia logic where the text exploded between scene, voice, body, and web creates conjunctions and disjunctions. Writing as a stream flowing from fingers to the screen, from the screen to the sound to return to envelop the skin and create other projection's spaces.
The device of performative writing in real-time, broadcast on the web in real time, functions as a play-within-a-play of communication networks where people are trying to find each other, to touch each other, to transcend the distance while maintaining it as a condition for desire, where bodies fade to reappear in a blurred, modified, diffracted way … This extension on the web of CONTACT raises the question of the transposition of the text from one space to another, from one medium to another, and its mutability ; it questions the web as a space of speech's archive, in which the logic of the ephemeral and the mutation are at work.
>> Screen capture of the website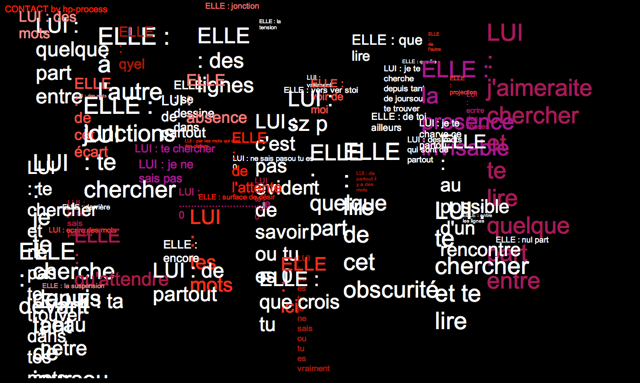 ////// See PICTURE 1
////// See PICTURE 2
////// File about the project :
French =>

English =>